Hotoku Summit Odawara-shi meeting
 For 12th, 13 days, general meeting of national Hotoku study municipalities meeting and the 24th whole country Hotoku Summit Odawara-shi meeting were held.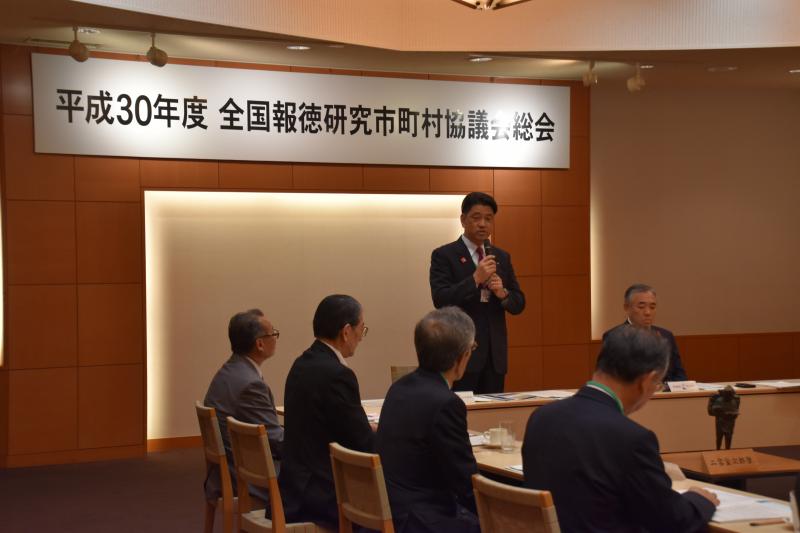 For meeting, the municipalities of whole country 17 with relationship join Hotoku, and, of these, chief and the superintendent of education attend at this summit from 14 municipalities. At general meeting on 12th, the deliberation about business and budget, activity report of "child support sectional meeting" that we began in 2012 with the Great East Japan Earthquake, report of area product interchange "tagaisantagai*" which situation, Kakegawa-shi and Toyokorocho of request activity to dramatization begin business were performed and exchange information about Hotoku-affiliated approach in each place. Have the mayor of Yoshida taken up the new post as successor of Namie-machi, the mayor who died in this on last June 27 of riding ground report states of current Namiemachi in detail, right revival still way distant; did, and shared a feeling of no in all members. 
 Summit on 13th, the following day is holding in participation of Hotoku people concerned from each place filled up to the second-floor seat of civic center grandly. It began for splendid welcome performance of northern part of a castle Junior High School brass band club, and, panel discussion by opening of a meeting event, composition announcement by five primary schoolchildren of Odawara, Keynote Speech by Akihisa Kusayama chief priest of Hotoku Ninomiya Shinto shrine and participation chief and others, it was introduction of preview version completion of movie "Kinjiro Ninomiya" and various programs finally.
 We put reflection to past formulated summit and our determination for the future, and this summit established "the making of person, town development that we turned from the origin of Hotoku to ... future to review" and theme. Not only we learned and honored teaching of Mr. merely Ninomiya, but also aimed at contents which asked practice of we meeting participation municipalities which were in a position to succeed to kun eo of Hotoku toward contemporary problem and thing that we did. It is lecture of grassy hill chief priest to have been prominent while we did so. When not only we stood at point of view with "Hotoku that you should practice now" in story titled "skill in Hotoku style district construction" and learned "Hotoku thought", but also were when you should practice "Hotoku way of securities exchange", we were introduced business of various area resources conjugations in "Odawara citrus fruit clubs" wrestled by oneself and gave off powerful message that practice was important.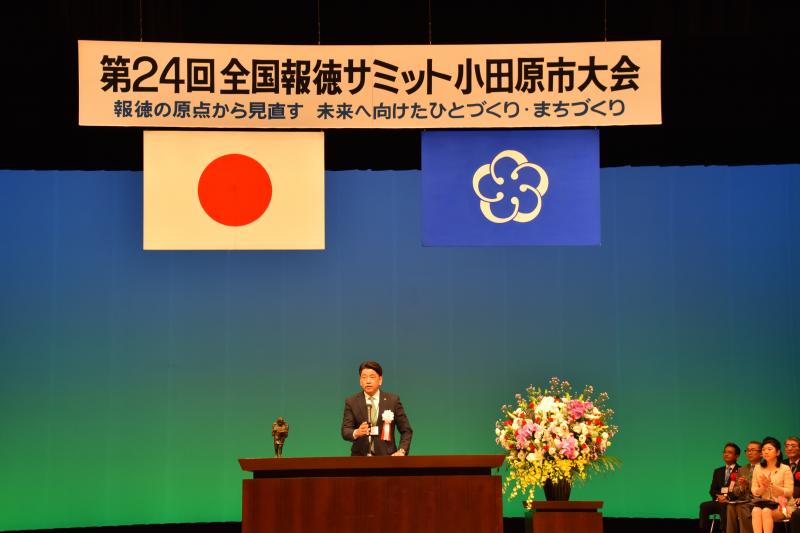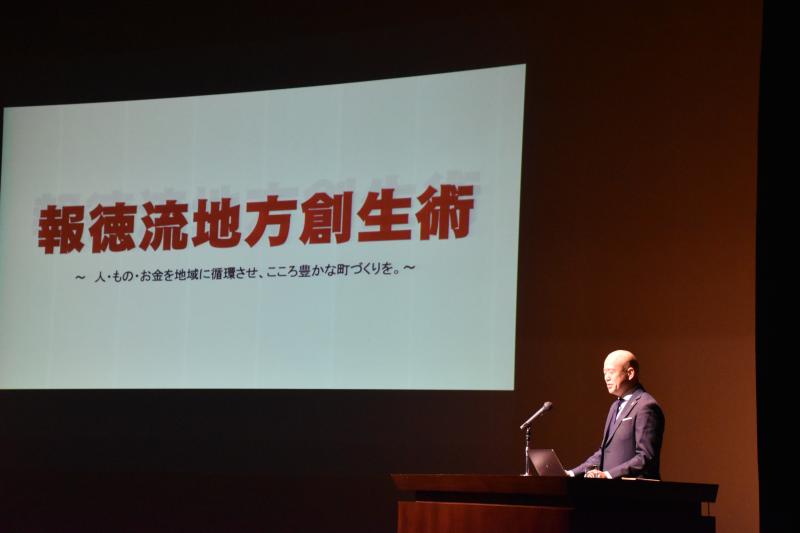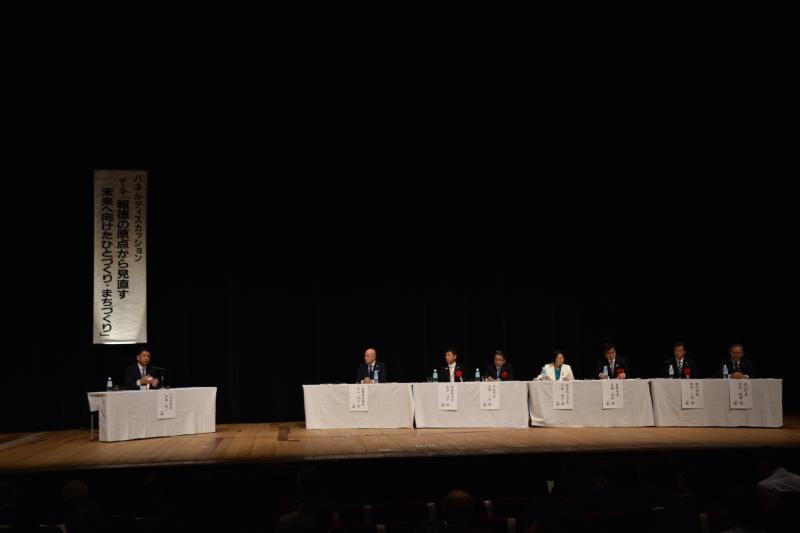 It is information sharing by approach of person making of, town development wrestled through the exchanges with six chiefs and Kusayama who I act as host progress in panel discussion to continue, and participated in each place. If anything, we added to current approach unbalanced in for "the spread of teaching", and, from each chief stimulated by story of Kusayama, expressions that we wanted to wrestle for practice by town development including regional economy activity in future occurred successively.
 Finally, Manager Takumi Igarashi, Masashi Aida of the part of Kinjiro, Misato Tanaka of ordinary role of wife, Takaaki Enoki of Tadazane Okubo compulsory labor go on the platform. In addition to presentation of preview, it was introduced that work was completed. From me "person who looked at live Kinjiro does not crawl in this. Through Kinjiro Aida appearing for this movie, we can know figure and way of life from now on. We called saying we want many everybodies to watch by all means.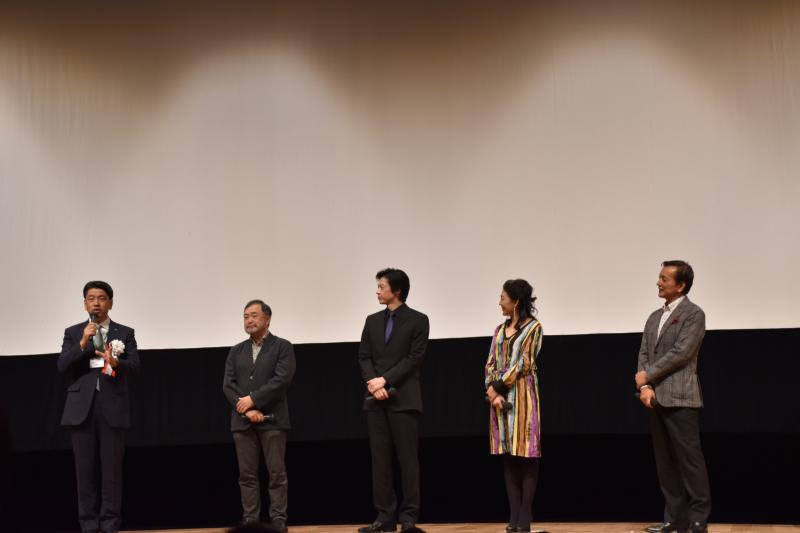 In closing ceremony, we adopt summit declaration by hakunumakyoikucho*yomi and we hand the superintendent of education of Chikusei-shi, Ibaraki that is the site of the next year Kinjiro image which has been inherited in each generation holding city and are finished. We appreciate that it became informative summit by invention and effort of member of the executive committee, the person concerned and the staff and put role as holding city away safely and is relieved. (when we are accompanied about movie "Kinjiro Ninomiya" whom preview was carried out for in the afternoon on this day, we touch with the tomorrow's diary.)