2018 Odawara-shi UIJ turn employment support combination briefing session [finished]
"2018 Odawara-shi UIJ turn employment support combination briefing session" was finished.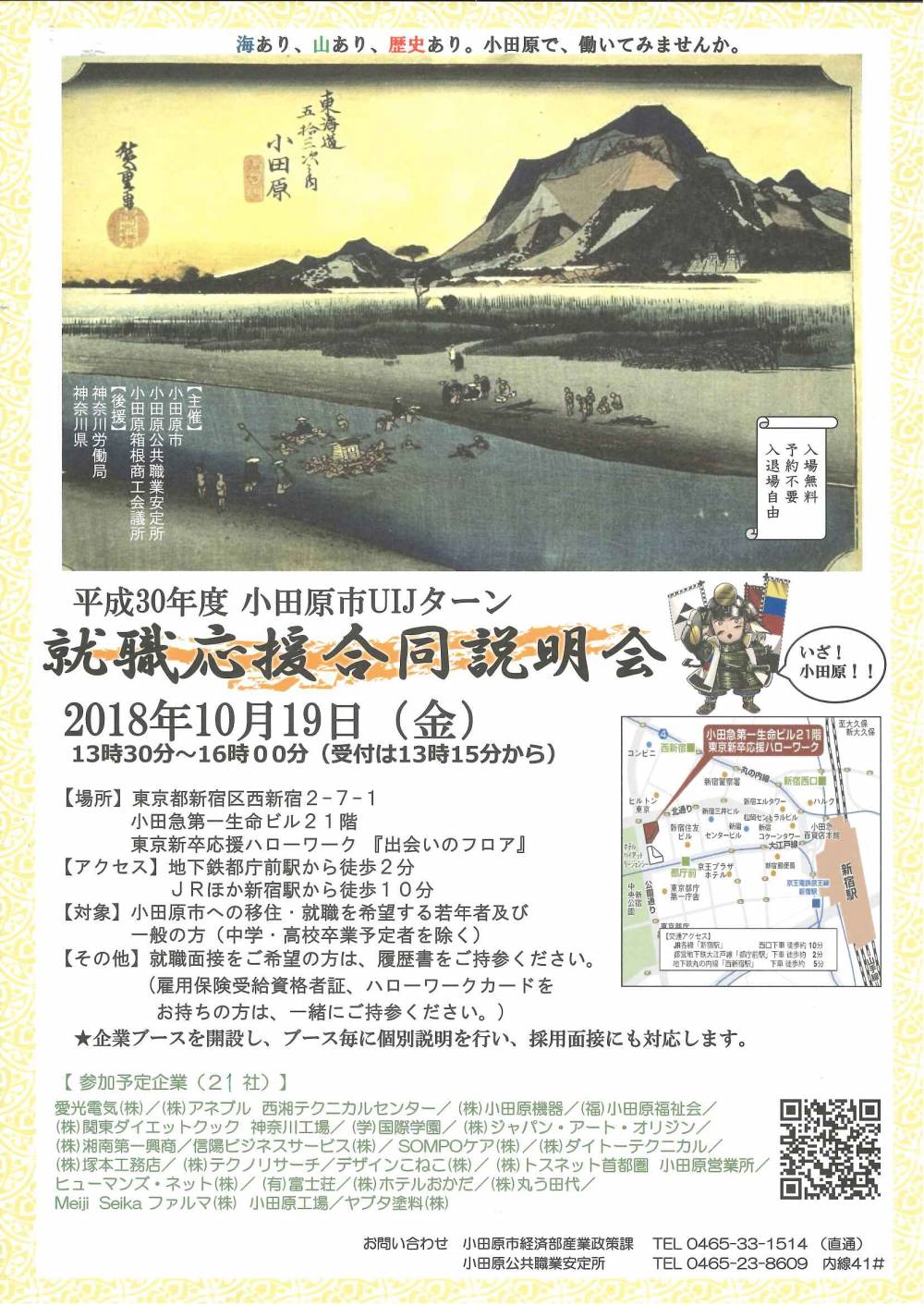 We hold UIJ turn employment support combination briefing session in Tokyo new college graduate support HelloWork "floor of encounter" (the 21st floor of the Odakyu Dai-ichi Mutual Life Insurance Co. Building) in cooperation with HelloWork Odawara and Hakone, Odawara Chamber of Commerce and Industry in Odawara-shi.

21 companies of in Odawara-shi and neighborhood gather to Shinjuku.

Please come and join at this opportunity!
Date  

It is 4:00 p.m. from 1:30 p.m. on Friday, October 19, 2018
(in the reception desk from 1:15 p.m.)

Place

Tokyo new college graduate support HelloWork "floor of encounter"
(the 21st floor of the 2-7-1, Nishishinjuku, Shinjuku-ku, Tokyo Odakyu Dai-ichi Mutual Life Insurance Co. Building)

Access

It is approximately 2 minutes on foot from subway Tochomae Station
It is approximately 10 minutes on foot from JR others Shinjuku Station

Object

Young fellow in hope of emigration, employment to Odawara-shi and general person (except person planning junior high school, graduation from high school)

Entrance fee

Free (no appointment necessary, entrance and exit freedom)

Belonging of adoption interview applicant

・Resume
・Identification of unemployment insurance receipt qualified person (one during unemployment insurance receipt)
・HelloWork card (person you have)

Sponsorship
Odawara-shi, Odawara public job placement office, Hakone, Odawara Chamber of Commerce and Industry
Support
Kanagawa labor bureau, Kanagawa
Is going to participate; company (may be changed without notice. Thank you for your understanding.)
AIKO Corporation
It is specialized trading company of electric facilities material which is listed on JASDAQ. Electric facilities material is product necessary to use "electricity" which we cannot miss in rich life. Through sale of the electric facilities material, we contribute to community.
aneburu sei* technical center
aneburu is car-related research and development, field of vehicle customization and is company supporting problem solution of customer by technique and creativity.
Business outline: Engine examination trust, examination parts, design, production of device. Overseas parts import, sale.
ODAWARA AUTO-MACHINE MFG. Co., Ltd.
We ODAWARA AUTO-MACHINE MFG. provides "fare receipt system for bus" of high quality proud of high share to in the whole country in motor carriers of the whole country. Our strength is company design, "manufacturing" by self-developing. In addition, work location becomes the Odawara head office (Haraichinaka-cho, Oda).
Social welfare corporation Odawara welfare society
Social welfare corporation is not "company of care". It is work of community development to set up safety net to live in area that lived so long. Care worker, social worker are work to perform contribution to society while having national qualification.
Kanto diet Cook Kanagawa factory
It is maker of side dish which we produce precut salad for salad, side dish and convenience stores sold in supermarkets and sell. We built new factory by strong performance and began operation in this June. We send fresh product to whole Kanto.
Educational foundation international school
Through the cause, instructional activity and foreign countries support activity of three promises of hoshi* "to detect person, and not to remove person, and to make friend", we learn and develop fair ino ground to express the need of "sympathy understanding education" to contribute to symbiosis society realization.
Japan art origin
Approximately 30 staff works on work at ease in the head office. As cozy atmosphere is the attractive workplace, we take cooperation each other and push forward duties while cooperating. At first person who wants to play an active part as our steady member who continues growing up, please apply after checking our position offer information casually.
Shonan DAIICHIKOSHO
We want to do society with "song" wealthily. It begins for sale of karaoke machine "DAM" and runs karaoke room "big echo" and "utayuno accommodation". We are enlarging the service domain more now.
Xinyang business service company
It is company of IT service that computer section of Sagami Shinkin Bank spun off into a separate company. It is affiliate of financial institution, but manufacturing includes strength. Person who is interested in IT, person whom we want to challenge come to our booth by all means.
SOMPO care
As for SOMPO care, SOMPO Holdings group which is member of SOMPO Holdings group is comprised by domestic life insurance business, care, health care business, foreign countries insurance business mainly on domestic insurance against loss business. We offer wide product, service to have "relief, security, health" live.
Die toe is technical
We die toe group is company which works, and realizes the making of living of happiness and relief which there is "only to person" while society makes communication with customer AI carefully in building company of Southwest Kanagawa (Odawara, Hatano).
Tsukamoto engineering firm
Around Odawara-shi, we support to be able to be brought up in inexperienced or inexperienced various places to an adult in company performing public construction to support local living. In addition, we work on each qualification and future, career path including field overseer.
Techno research
In us, the new employee training and support of senior employee are substantial. Even physical science is faculty of liberal arts, but don't worry as person who did not touch PC at all studies from foundations of PC until now. We want to try! Called this want to be, and is welcome.
Design koneko
It is design office of Odawara-shi. We keep design rooting in area in mind. We perform Blanding who put overall design, planning, copies such as Web, package, product plan, shooting, illustration together.
TOSNET Corporation metropolitan area Odawara Office
As group companies of listed company TOSNET, we keep placement that is right person for the right place in mind, and place where you can play an active part diverges into many branches. Let's protect life, body, property of people together to be able to feel pride as the times, professional whom demand to the guard increases to.
Human net
It is pro-independence software company of establishment 21 years of 200 scales (we include subcontractor). Integrated technique, service is provided until down stream process by the upper classes. Business, system development of control bisection field are the center. There will be even hiring throughout the year in place of achievement as executive in the future.
Fuji-so
We Fuji-so performs plan, administration of four inns which let each have concept. Our hospitality does not have small manual. We aim at service of only one for customer.
Hotel Okada
It is Japanese-style resort hotel in Hakoneyumoto hot spring blessed with the convenience to transportation located at the doorway of outstanding sightseeing spot "Hakone" in Japan. Regardless of home and abroad, 120,000 a year customers use.
Circle u Tashiro
Long-established store of Odawara kamaboko which continues following taste and tradition, and reaches founding 150 years soon. We perform production sale of fish paste such as oden classes as well as kamaboko. We put factory in Shizuoka and are particular about company production. Kamaboko tradition building and cafe are added to main store.
Meiji Seika Pharma Odawara factory
We which are pharmaceutical products business of former Meiji Seika Kaisha, Ltd. perform study development and production, sale of pharmaceutical products. Odawara factory produces tablet, powders, injection agents as domestic main factory. 340 employees are working now in office.
Yabuta paint
We may be related to color of building and machine part in surroundings. Paint which we sent to customer forms coating colorfully and is doing in colorful society which there is. Our activity supports your life fundamentally.
※From the beginning of October, reading of advertisement for help is enabled at the nearest HelloWork job offer search terminal.

※Yamagishi became nonparticipation by company convenience.
The last update date: November 13, 2018
Reference about this information
Economic Department: Person in charge of industrial policy section misgovernment leads to the impoverishment of the people employment
Phone number: 0465-33-1514