Representative from rugby Australia "Wallabies" comes over to Odawara!
Rugby World Cup 2019 that holding finally approached. And it is the Tokyo Olympics Paralympics of 2020. It was decided that one of the participating nations, Australian representative team carried out prior camping for meeting in Odawara. Let's watch play of world level close at this opportunity!
Welcome ceremony (Monday, October 29, 2018 16:45 - Odawara ruins of a castle park main enclosure open space)
We carry out welcome ceremony to welcome Australian representative team (under an alias: Wallabies) carrying out training camp in Odawara from October 28 to November 3.
Date
Monday, October 29, 2018 from 16:45 to 17:10
Place
Odawara ruins of a castle park main enclosure open space
Attendant
[Australian side]
 Player of representative team, approximately 50 people including coach
[Odawara-shi side]
 Mayor, Chairperson of municipal assembly, 12 people including General Manager Hilton Odawara
■Date 
 Tuesday, October 30 from 11:45 to 13:00
 ※It becomes this once on public exercise day.
 
■Venue 
 Shiroyama athletics field (2-29-1, Shiroyama, Odawara-shi)

 ※As limit is in parking lot,
  Please use public transport.
[Wallabies (15 system boy)]
■From Sunday, October 28, 2018 to November 3 (soil, celebration)
 
■The middle of September, 2019 (just before the World Cup)
[seven (seven system) man and woman]
■<girl> From July 29, 2019 to August 3
 <boy> From 4 to 9 on August in 2019
■<man and woman> The summer of 2020 (just before the Olympics)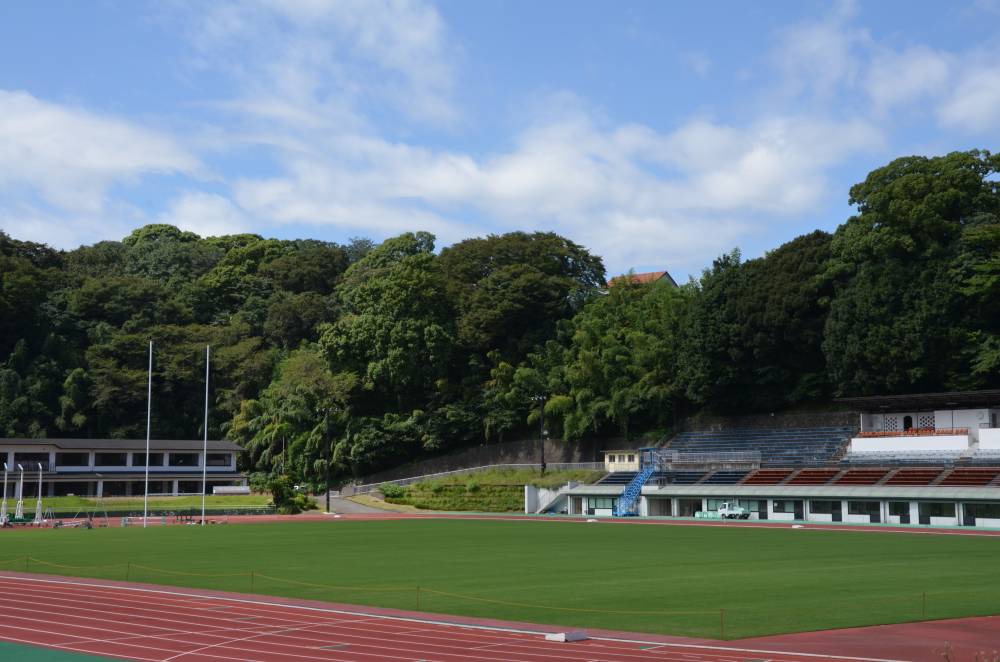 Shiroyama athletics field which becomes practice field
Australian representative is so great!
Rugby large country which Australia is one of the countries where rugby is the most prosperous, and has many professional teams.
15 system boy is got close to by nickname of Wallabies and is skilled player country to boast of 2 degrees championship to by Rugby World Cup that is one of the three major sporting events of the world. It was runner up at last time meeting of 2015 regrettably.
In addition, seven system (seven) girl representative accomplished historic great achievement called gold medal acquisition at 2016 Rio meeting that became official event of the Olympics.
-Main results -
◆Wallabies (15 system boy)
 The world rank seventh place (as of 2018.10 month)
 Two times of World Cup championships (1991, 1999)
◆Seven (seven system) boy
 The world rank fourth place (2017-2018 season)
◆Seven (seven system) girl
 The world rank first place (2017-2018 season)
 2016 Rio Olympics gold medal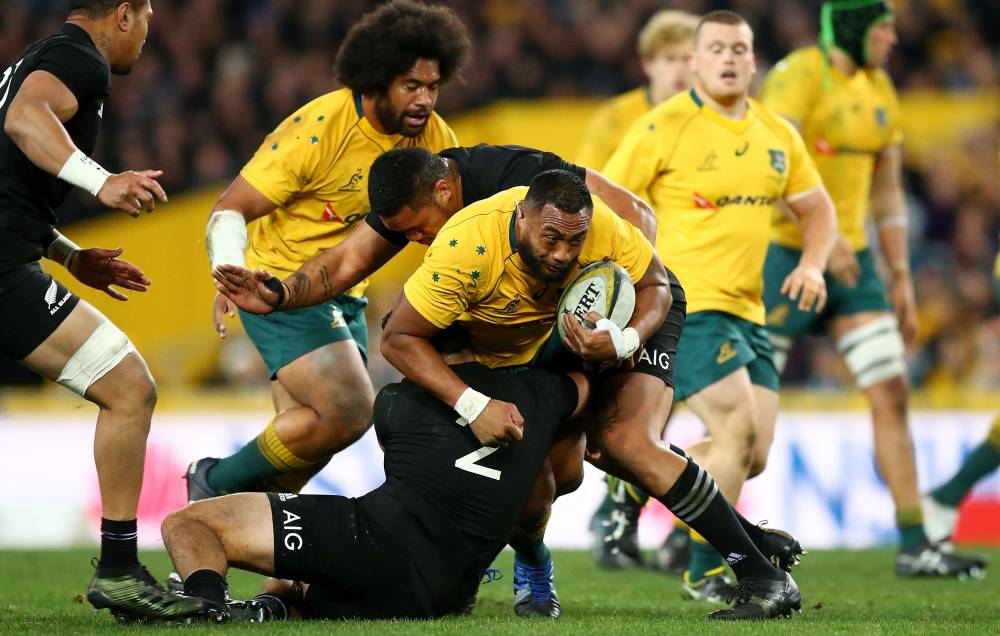 Seven system and 15 system
There is competition of various rules even if we say rugby to a mouthful.
15 system, the Olympics are seven systems, and the World Cup is carried out, and full time and rule vary, and there are charm and pleasure different each other than the number of people.
In addition, 13 system rugby is popular in Australia.

Why do you come over to Odawara?
Because Odawara-shi and Northern beach city (former Manley City) of Australia had been continuing youth exchange in friendship town for many years, invitation of Australian representative was active for Rugby World Cup.
As a result, we succeeded in invitation and concluded agreement about training camp on August 24, 2018.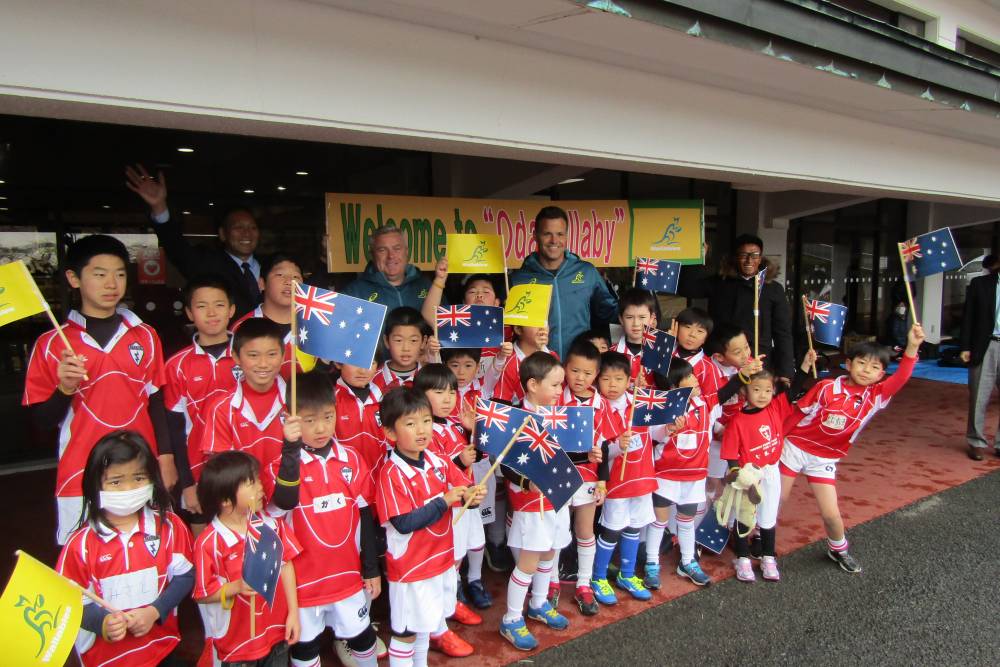 State (with students of Odawara rugby school) at the time of inspection
Michael Che squid head coach of Wallabies visits Odawara on September 17!
Message video for citizen's all of you
[translation into Japanese]
All of you, hello of Odawara.
My name is Michael Che squid. It is head coach of Wallabies.
Australian union team participates in World Cup Japan meeting as Australian representative in 2019.
(training) is welcomed by Odawara who is base, and is glad in having been welcomed very much.
World Cup has terminated in the second place regrettably in 2015. By preparations perfect as possible, we want to aim at championship this time.
We appreciate great support of Odawara. In addition, we support us, and thank you.
Let's meet at stadium.
Go for it, it is Wallabies!

We hold "Aussie beef steak fair" in downtown of Odawara during camping period!
In commemoration of decision of prior campground by Australian representative, we hold "Aussie beef steak fair" around Odawara Station.
During camping period, we provide Aussie beef steak for 100 grams of 500 yen at target store.
Please appreciate at this opportunity!
We eat Aussie beef, and, in "oar Odawara," let's support "Wallabies"!
 From Sunday, October 28 to Saturday, November 3
Fair participation store (14 stores)
udo eight
The original cooking spring sea
Seafood bystreet uokuni
Field irregularity silver and bower harune Odawara shop
henura SPAIN BAR X eruboracho
Pizzeria & wine bar
Sling
COMFORT GRILL BAR
MAA'S MEAT BAR
Four seasons food Aya Garden gently
La parurudo
jinriki kitchen
We do not get Japanese dishes creation
Charcoal fire spit Senjiro
With central bar austere refinement of the sum
[Saturday, October 27, 2018] Canon blurring D throw cup 2018 holding!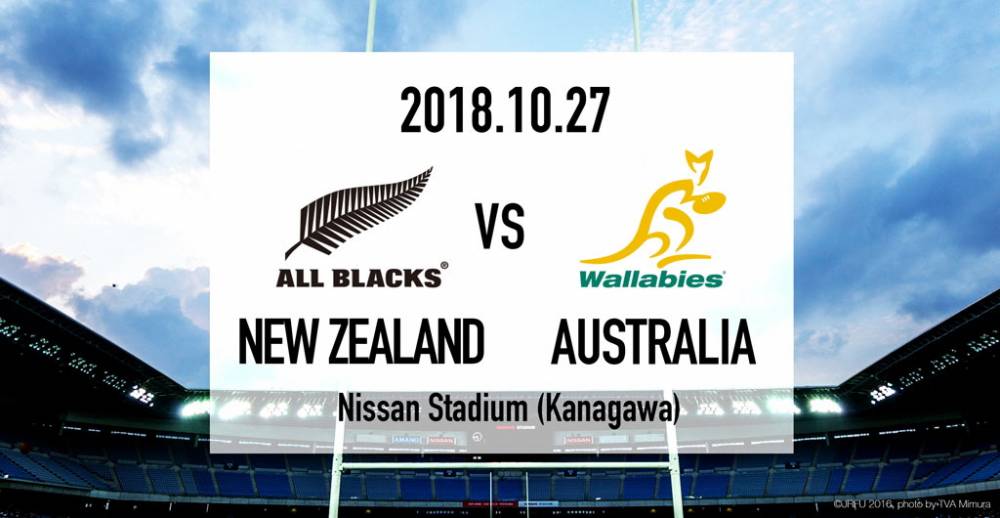 Australian representative Wallabies crashes into New Zealand representative All Blacks which are everlasting rival in Yokohama, Nissan Stadium on October 27 on the day before to enter camp in Odawara.
Let's watch a game of fierce battle of both teams which confronted in the Rugby World Cup final of 2015 at stadium.
Date

Saturday, October 27, 2018 15:00 kickoff

Place

Nissan Stadium (Yokohama-shi)

Play

Representative from Australian representative VS New Zealand
 (Wallabies)    (All Blacks)
The last update date: October 29, 2018
Reference about this information
Planning: Person in charge of plan policy section Olympics Paralympics promotion
Phone number: 0465-33-1408